In the AI-gen and after Google RankBrain update, Topical SEO is as powerful as local SEO used to be. 
Imagine you're planning a trip to Goa, India, and you're looking for information on the top 5 best places to visit in Goa. You turn to Google for guidance. In this scenario:
Website A – Topical Authority on Travel and Goa with less DA/DR:
This website is dedicated to travel and tourism.

It regularly publishes detailed articles about Goa, covering various aspects like tourist attractions, hotels, cuisine, and travel tips.

It has earned backlinks from reputable travel websites and has a substantial social media presence in the travel niche.

Google recognizes it as an authoritative source for travel-related content, including Goa.
Website B – General Information Website with high DA/DR:
This website covers a wide range of topics, from technology to fashion to cooking, but it rarely discusses travel or Goa specifically.

It lacks a dedicated section or history of publishing travel-related content.

It has relatively few backlinks in the travel niche and minimal social media activity related to travel.
In this scenario, when you perform a Google search for "top 5 best places to visit in Goa," Google's algorithm is likely to prioritize Website A over Website B. Here's why:
Website A has established topical authority in the travel niche, especially regarding Goa.

It consistently produces high-quality content related to travel in Goa.

It has earned trust from both users and other authoritative travel websites, as evident from backlinks and social signals.

Google recognizes Website A as a reliable source for travel recommendations in Goa.
On the other hand, Website B lacks the topical authority needed to provide comprehensive and trusted information about Goa's top attractions. Google is less likely to rank it at the top of the search results because it doesn't specialize in this specific topic.
In essence, topical authority is crucial because it helps search engines like Google determine which sources are the most credible, knowledgeable, and relevant for specific topics or niches. Users benefit from this by receiving more accurate and trustworthy information in their search results. This shift from general SEO to topical SEO reflects the growing importance of expertise and relevance in today's online landscape.
Why Topical Authority Matters for your brand?
Search engines, like Google, aim to provide users with the most relevant and trustworthy information. When your website becomes an authority on a specific topic, search engines trust your content more, leading to higher rankings in search results. High rankings mean more visibility, which translates to increased organic traffic.
Improved Ranking for Relevant Keywords
As you build topical authority, your content naturally includes a wide range of relevant keywords and phrases. When users search for information related to your topic, your content is more likely to appear in search results. This optimized content attracts organic traffic from users actively seeking information on your topic.
User Trust and Engagement
When you consistently deliver valuable and accurate information on a particular subject, users trust your website as a reliable source. This trust leads to increased user engagement, longer time spent on your site, and lower bounce rates—all of which are positive signals for search engines, ultimately boosting organic traffic.
Content Depth and Breadth
Building topical authority encourages you to cover a wide range of subtopics within your chosen niche. This comprehensive approach ensures that your content addresses a variety of user queries. As a result, your website becomes a comprehensive resource for information in your field, attracting more organic traffic from diverse search queries.
Link Building Opportunities
Other websites, blogs, and authorities in your industry are more likely to link to your content when you're recognized as an authority. High-quality backlinks from reputable sources not only increase your website's authority but also drive more organic traffic through referral clicks.
Unlike some short-lived SEO tactics, topical authority is a sustainable strategy. Once established, it can maintain high rankings over time, continuing to attract organic traffic without ongoing extensive efforts.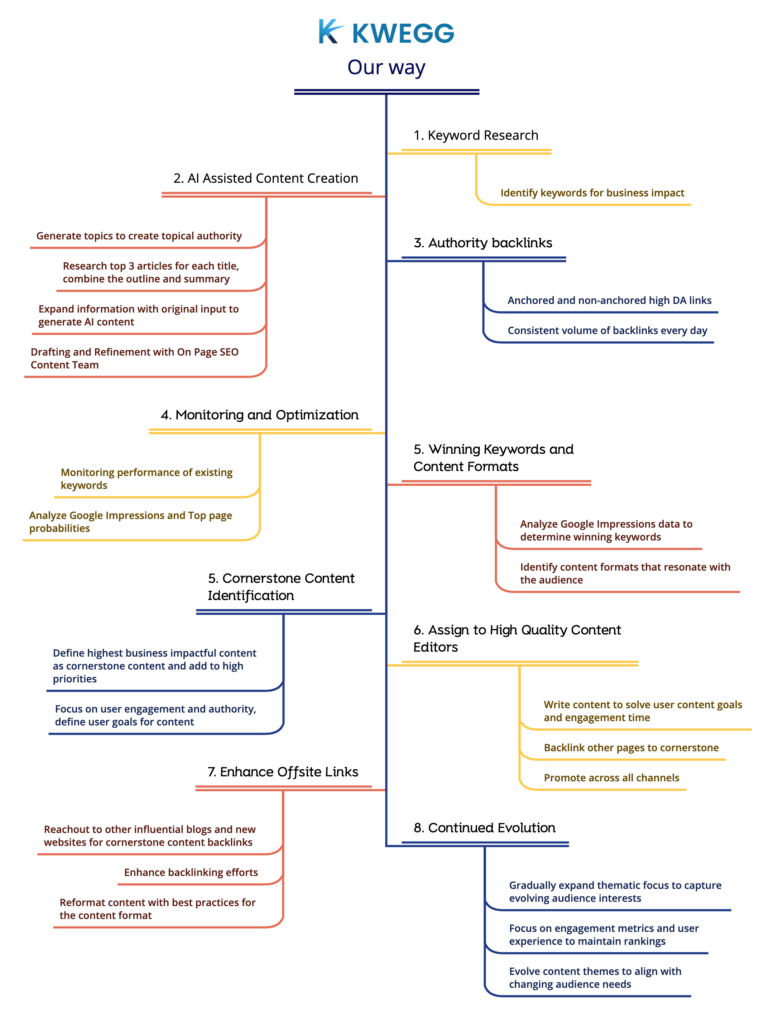 AI-Powered Cornerstone Identification and SEO Amplification with our Team
Shared high quality content editor, AI content generators, offsite SEO expert, onsite SEO suggestions and support
Leverage AI-powered content generation with Kwegg to create engaging and insightful articles from ideas and sparked by competitors success
Strategically identify and secure relevant backlinks from authoritative external sources ( 400 submissions every month )
Maintain a steady volume of 20 articles per month to ensure consistent content creation
Analyze Google Impressions data to identify potential keywords with high impression rates
Define cornerstone content from impressions that are aligned with business
Finetune cornerstone articles to winning content that ranks higher
Boost offsite SEO on cornerstone content
Dedicated SEO expert over Chat
DIY Flexible Starter
Get Started with Kwegg AI Content Productivity System.
40 Credits/m Included ( 1 credit = 1 medium article )
Content Task Stages
Publish Directly to WordPress
Unlimited workspaces
Add on credits that never expires until yoru subscription lasts
Advanced Content Editing with Expand, Shrink, Rephrase, and Grammar voice change
SEO score and improvements
$25 for 100 article credits additional packs
AI-Powered Cornerstone Identification and SEO Amplification Advanced
1 shared high quality content editor, 1 shared AI content generator, 1 dedicated offsite SEO expert and 1 support. All AI credits usage free by these experts.
Leverage AI-powered content generation with Kwegg to create engaging and insightful articles from ideas and sparked by competitors success
Strategically identify and secure relevant backlinks from authoritative external sources (500 submissions every month )
Maintain a steady volume of 20 articles per month to ensure consistent content creation
Analyze Google Impressions data to identify potential keywords with high impression rates
Define cornerstone content from impressions that are aligned with business
Finetune cornerstone articles to winning content that ranks higher
Boost offsite SEO on cornerstone content
Talk to us
Dedicated SEO experts
Join Us and Grow Your Content
The only AI content generation tool with customized workflows